One of the best ways to judge a starter is by how many earned runs he gives up in his starts over his career.
Only one Mets pitcher has started more than 300 games in which he gave up three or fewer earned runs: Tom Seaver. In them, he had an amazingly low ERA of 1.68. The only current Met in the Top 10 is Jacob deGrom.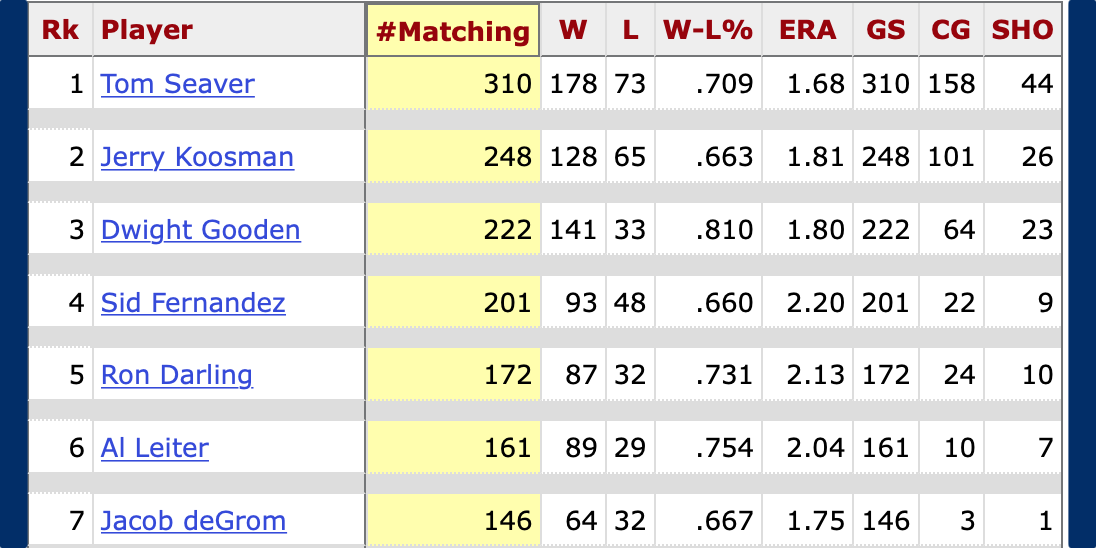 In 245 of his starts, Tom Seaver gave up two or fewer earned runs. But he did not have the highest W-L% among the Top 7. Al Leiter won almost 90% of the games in which no more than 2 runners crossed the plate w/o the aid of an error or passed ball.
Among Mets pitchers with at least 80 starts, only one had a W-L% greater than 90%. That was Bobby Jones, who pitched for the team from 1993-2000. In 85 starts he won almost 10 times as many as he lost (53-5).
When the number of earned runs surrendered in a start reduces to no more than one, deGrom moves up to fifth place and his W-L% jumps to 94.7%. Further, half the pitchers in that Top 10 list are left-handed.
Since deGrom's career began in 2014, only five MLB starters have pitched more than 80 games in which they surrendered no more than one earned run.
Jon Lester and Jacob deGrom tied for first; however, Lester had both four more wins and four more losses.
Two other Mets are in the Top 40, Marcus Stroman and Michael Wacha. Rick Porcello ranks 52nd, Noah Syndergaard 57th, and Steven Matz 91st. Ex-Met Zack Wheeler ranks 71st.